End the diagnostic delay
"Covid may be killing people but EBV is shattering lives and no one is talking about it!"
"The Epstein-Barr virus has ruined my personal and family life."
"For six years I've been told: it's in your head."
"I suffered from diagnostic delays about EBV. The doctors left me for 5 years without a proper diagnosis."
EBV, a virus that can go unnoticed
The major issue with EBV is that the infection, including mononucleosis, can go completely unnoticed or develop into common symptoms (sore throat, severe fatigue) that can easily be mistaken for other diseases. Furthermore, since EBV is not always on the minds of health care providers, patients are rarely advised to be tested for EBV.
The duration of diagnostic delays could be reduced if EBV was checked more regularly.
Unlike shingles or lip herpes, Epstein-Barr virus has no specific physical symptoms.
Below is a list of the most common symptoms, which may differ from one person to the other:
Acute stage symptoms (Infectious Mononucleosis)
Fatigue
Faintness
Sore throat
Fever, chills, body aches
Swollen lymph nodes – neck, groin, armpits (= lymphatic adenopathy)
Swollen eyelids, swollen face
Red pimples or patches (= skin rash)
Decreased appetite
Abdominal discomfort
Joint and muscle pain
Primary infection symptoms - persistent
Fever
Swollen lymph nodes (= adenopathy)
Enlarged liver and spleen (= hepatosplenomegaly)
Constant fatigue
Joint and muscle pain
EBV reactivation symptoms
Brain fog
Repeated infections
Constant fatigue
Fever
Nodes in the neck (= cervical lymph nodes)
Rash
Faitness
Enlarged liver and spleen (= hepatosplenomegaly)
Joint and muscle pain
Tips : Also pay attention to possible periodontal, liver or dysbiotic issues.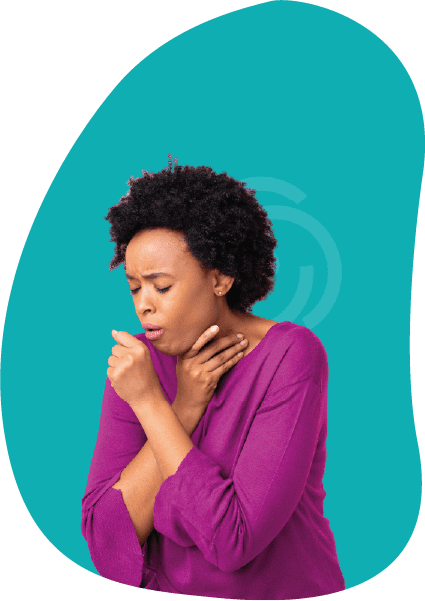 Get tested for EBV
Given the "ordinary" symptoms, the search for EBV viral infection is not done automatically: at most, the diagnosis of a virosis, i.e. an infection caused by a virus, is made without any further clarification… A doctor who is not familiar with the EBV virus will not necessarily think of it at first…
As a result, the diagnosis may be overlooked during the first stage of the disease. Usually, it is only when symptoms remain for more than 2-3 weeks and at the patient's request that biological tests are carried out to identify the viral agent responsible for the clinical problems.
Tip: If in doubt, insist on getting an EBV test from your doctor (to confirm or rule out this possibility).
It is already not always easy to diagnose mononucleosis quickly, let alone reactivation! The symptoms are even less obvious and it is above all the patient's insistence and the care provider's actions that make all the difference. The role played by EBV in a large number of diseases must become an essential element to screen patients for it. And let's not forget that an EBV serology (blood test) can easily confirm the clinical diagnosis.
Unlike the varicella-zoster virus or lip herpes, which are also reactivatable viruses, the Epstein-Barr virus has no specific physical symptoms: therefore, it may be useful to perform biological tests to find out more!
Ask your questions about l'Epstein-Barr
Ask questions to those studying the disease – you'll be less afraid of what you understand!